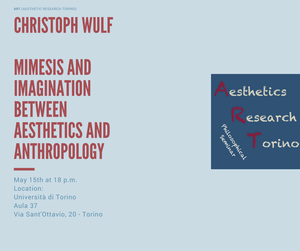 The next lecture of ART (Aesthetics Research Torino) - Philosophical Seminar will be delivered by prof. Christoph Wulf on May 15th at 18 p.m.
Chair: Alessandro Bertinetto
Discussants: Andrea Borsari, Mariagrazia Portera and Pedro Medina
Location: Università di Torino, Aula 37, Via Sant'Ottavio 20 - Torino
Christoph WulfMimesis and imagination between aesthetics and anthropology
Pedro Medina
ART (Aesthetic Research Torino) is a periodic philosophical seminar
organized by the Department of Philosophy and Educational
Sciences of the University of Turin and the PhD Program FINO. It is coordinated by Prof. Alessandro Bertinetto.
ART addresses different topics of the contemporary debate in
Aesthetics: philosophy of beauty, philosophy of the arts, theory of
sensory experience, philosophy of image and imagination, and history of aesthetics.
ART is supported by:
Centro Interuniversitario di Ricerca sulla Morfologia Francesco Moiso (CIM)
Centro di Ricerca Interdipartimentale di Logica, Linguaggio e Cognizione (LLC)
Centro Studi Arti della Modernità
Laboratorio di Ontologia (Labont)
ART is sponsored by:
Italian Society for Aesthetics (SIE)
European Society for Aesthetics (ESA)