Christoph Wulf. Mimesis and imagination between aesthetics and anthropology - Next lecture of ART (Aesthetics Research Torino) - Philosophical Seminar - Torino, 15 maggio 2018
Pubblicato:
Giovedì 3 maggio 2018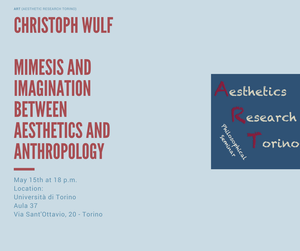 The next lecture of ART (Aesthetics Research Torino) - Philosophical Seminar will be delivered by prof. Christoph Wulf on May 15th at 18 p.m.
Chair: Alessandro Bertinetto
Discussants: Andrea Borsari, Mariagrazia Portera and Pedro Medina
Location: Università di Torino, Aula 37, Via Sant'Ottavio 20 - Torino
Mimesis. Cultura, arte, società (Mimesis. Culture, art, society) by Christoph Wulf and Gunter Gebauer makes available to the Italian public the reference text in the international literature and the most extensive survey work dedicated to the problem of mimesis, after the monumental book of Erich Auerbach (1956) from which it explicitly takes the moves. Through the main stages of the elaboration of the notion from classical antiquity, medieval, renaissance, six and eighteenth century theorists, up to the great nineteenth-century novel and contemporary philosophy, the book discusses the concept of "mimesis" which does not only indicate the process of imitation, but, in addition to the sphere of aesthetics and artistic expression, refers to a broader capacity for mimicry, similarity, assimilation, representation, simulation, registration, expression and mimetic anticipation. The mimetic faculty concerns human activities as a whole and plays a central role in anthropogenesis, in the birth of the subject and in the development of each person's personality. Mimesis contributes to the aestheticization of the world and to its transformation into image. Mimesis triggers the vertigo of desire and mimetic rivalry, the instigating of the violence of assimilation and expulsion of the different. At the same time, mimesis makes possible the opportunity for a non-instrumental relationship with the other and with the world, it discovers unexpected similarities and unpublished mixes, and values ​​specific differences without dissolving them in generic terms but showing respect for things and for human beings. Together with Mimesis, Wulf's collection of essays, Homo imaginationis - which also explores themes such as the intertwining of emotion and ritual within cultural communities, the intercultural education in global society, the concept of performativity and the role of imagination in the construction of the human - brings out the deeply aesthetic tenor of the anthropological perspective developed by Wulf.
On the occasion of the release of:
Ch. Wulf, G. Gebauer, Mimesis. Cultura, arte, società, Italian ed. by A. Borsari, Bologna, Bup, 2017.
Ch. Wulf, Homo imaginationis. Le radici estetiche dell'antropologia storico-culturale, Italian ed. by F. Desideri and M. Portera, Milano-Udine, Mimesis, 2018.
CHRISTOPH WULF is professor of anthropology and sciences of education at the Freie Universität Berlin, directs the Interdisziplinäre Zentrum für Historische Anthropologie (FU-Berlin), founded and directs the journal "Paragrana. Internationale Zeitschrift für Historische Anthropologie" (De Gruyter), and serves as vice-president at the National UNESCO Commission of Germany (http://www.christophwulf.de/). He studied the forms of bodily, ritual and mimetic representation and the aesthetic-performative, symbolic and cultural dimension of human experience, among his numerous publications translated into fifteen languages: Zur Genese des Sozialen (Bielefeld, 2005); Anthropologie kultureller Vielfalt (Bielefeld, 2006); Anthropologie. Geschichte, Kultur, Philosophie (Köln, 2009); Cosmo, corpo, cultura. Enciclopedia atropologica (ed.), Milano, 2002; Emotions in Rituals and Performances (with A. Michaels), London, 2012; Anthropology of the global man. History and concepts, Turin, 2013; Exploring Alterity in a Globalized World, New York, 2016. He has been a visiting professor at many universities, including: Stanford; Tokyo, Kyoto; Beijing; Mysore, Delhi; Paris (Diderot, Nanterre, Vincennes-Saint-Denis, Institut de France, Conservatoire National des Arts et Métiers, École des Hautes Études en Sciences Sociales), Lille, Strasbourg; Modena; Amsterdam; Stockholm; Copenhagen; London; Saint Petersburg, Kazan.
ANDREA BORSARI is Associate Professor of Aesthetics at the University of Bologna, directs the series of aesthetics "Life and the forms" (Bononia University Press) and is vice-director of "Iride. Rivista di filosofia e discussion pubblica" (il Mulino), his latest books are: Mimicry. Estetica del divenire animale (Milan, 2018) and Mondo, cose, immagini. Sulle forme dell'esperienza estetica (Bologna, 2018). He has been visiting professor at: Ucla - University of California Los Angeles, Ecole nationale supérieure d'architecture at Paris la Villette, Københavns Universitet, Brown University - Providence.
MARIAGRAZIA PORTERA is EURIAS Junior Fellow, IASH, University of Edinburgh (UK). His research mainly concerns the relationship between aesthetics and life sciences, with particular reference to the Darwinian theory of evolution (M. Portera, Evoluzione della bellezza. Da Darwin al dibattito contemporaneo, Milano, 2015). She also worked on the German aesthetic between the seventeenth and nineteenth centuries (Poesia vivente. Una lettura di Hölderlin, Palermo, 2010). She is a member of the Council of the Presidency of the Italian Society for Aesthetics and Associate Editor of the online journal "Aisthesis. Pratiche, linguaggi e saperi dell'estetico".
PEDRO MEDINA is curator, art critic, teacher, researcher and editor in contemporary culture, especially design, video-creation and digital media. He has a degree in Philosophy from the Universidad de Murcia (1996) and a doctorate in Cultural Sciences from the Scuola Internazionale di Alti Studi in Modena (2001). He worked as a researcher at the Istituto Universitario di Architettura in Venice (2002-2003) and since 2006 he has been the Director of the Cultural Area at the Istituto Europeo di Design in Madrid, where he also teaches a range of history of art, aesthetics and semiotics subjects. In addition, he is in charge of the Editorial IED http://iedmadrid.com/sobre-el-ied/editorial-ied/ (2013-) and IED Sapere (2016, Italy, Spain and Brazil). Among his publications: La muerte de Virgilio. El final de una ilusión estética (2006) ed Economía del Diseño (2015); he writes frequently in "Artecontexto" and "Le Monde Diplomatique". Among his exhibits: Mapping Madrid (online e IED Madrid, 2009) and El hilo de Ariadna. Lectores, navegantes (Matadero Madrid, 2012-2013).
ART (Aesthetic Research Torino) is a periodic philosophical seminar
organized by the Department of Philosophy and Educational
Sciences of the University of Turin and the PhD Program FINO. It is coordinated by Prof. Alessandro Bertinetto.
ART addresses different topics of the contemporary debate in
Aesthetics: philosophy of beauty, philosophy of the arts, theory of
sensory experience, philosophy of image and imagination, and history of aesthetics.
ART is supported by:
Centro Interuniversitario di Ricerca sulla Morfologia Francesco Moiso (CIM)
Centro di Ricerca Interdipartimentale di Logica, Linguaggio e Cognizione (LLC)
Centro Studi Arti della Modernità
Laboratorio di Ontologia (Labont)
ART is sponsored by:
Italian Society for Aesthetics (SIE)
European Society for Aesthetics (ESA)